Euro Premium Solar Water Heater -ETC Type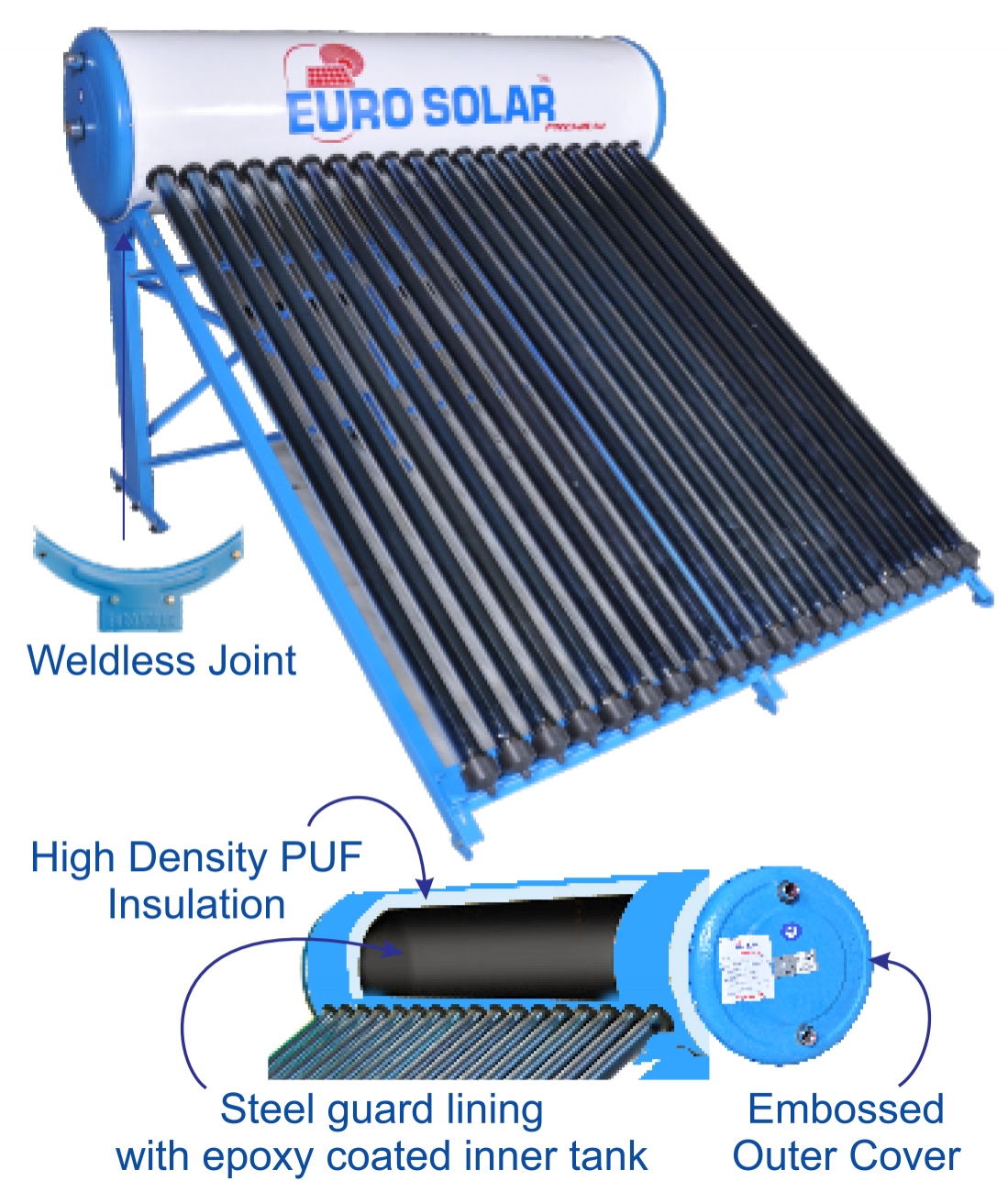 The solar water heater at Euro Premium Solar is of Premium quality, technologically advanced solar water heater is designed to perform and excel in the work water quality (hard water) and toughest environmental conditions.
Manufactured using the latest technology in our state of the art manufacturing plant and tested with our stringent quality testing facility, Euro Premium Solar meets your water heating needs and bestows customers with a trouble free long lasting operations.



Tank:
· Euro ultra tough tank specially coated inside & outside so longer and high durability.
· High density PUF insulation keeps water hot 24 hours.
Glass Tube Collector & Stand:
· Ultra conductive ultra thermal, three layer borosilicate glass tube provides 20% more efficiency.
· International standard designed stand structure assembly for Tank and collector with fully without welding and only on fasteners with flexible holes so easy to assemble maintenance free and rust proof.
· Coated with special pure polyester powder coating material, so longer and high durability.
Advantages:
· Invested money payback time 2 to 3 Years.
· 24 hours hot water -any time anywhere.
· Saves electrical energy so saves money too. (Refer tentative monthly saving chat given below.)
· 5*years Warrantee.
Available Capacity:
· 100LPD/ 150 LPD/200 LPD/250 LPD/300 LPD/400LPD/500LPD LPD COMPACT & M.F
· We provide customized solution for small medium & large scale projects.
Application:
· Residential , Hospital, Hotels, Industrial, Hostel, Trusts, Resorts, Colleges, Hostels, Complexes, Milk Dairies & Textile Industries, Boiler feed hot water, project for solar steam generators
How to system works-Thermosyphon Systems :
In this type water flows through the system and when water gets warm it rises as cooler water sinks.