Solar Water Heater FPC Type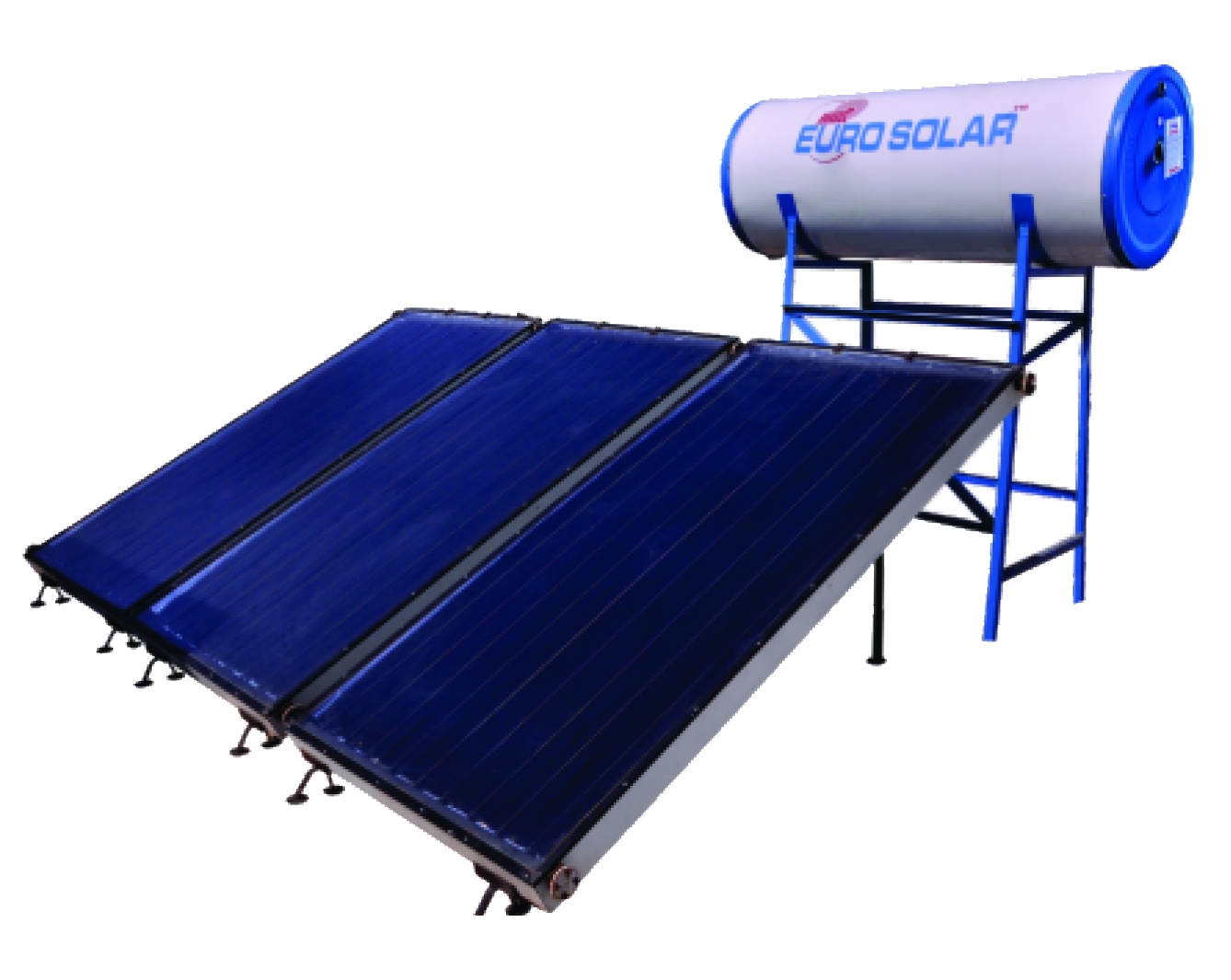 FPC (Flat Plate Collector) Normal and Pressurized system
Flat Plate Collector solar water heater manufactured using the latest technology in our state of the art manufacturing plant and tested with our stringent quality testing facility, Euro Premium Solar meets your water heating needs and bestows customers with a trouble free long lasting operations.


Tank:
· Euro ultra tough tank specially coated inside & outside so longer and high durability.
· We are the 1st company in India introduced special steel guard lining with epoxy coated three layer inner tank.
· High density 50mm PUF insulation keeps water hot 24 hours.

Flat Plate Collector & Stand:
· Collector and supporting stand structure for tank, all are coated with special pure polyester powder coating material, so longer and high durability.
· Ultra conductive ultra thermal with ultrasonic welded collectors.
Advantages:
· Invested money payback time 2 to 3 years.
· 24 hours hot water -any time anywhere.
· Saves Electrical Energy so Saves Money too
· 5*years warrantee normal system and 1 * Year FPC pressurized system warrantee
· In Australia, America, Europe & Japan countries this system widely accepted since last 15 years.
Available Capacity:
Available in following range of capacity liters per day (LPD)
· 100 LPD,200 LPD,300 LPD,500 LPD and further customized as per the requirement.
· We provide customized solution for small medium & large scale projects.
· Pressurized model also available
Application:
· Residential , Hospital, Hotels, Industrial, Hostel, Trusts, Resorts, Colleges, Hostels, Complexes, Milk Dairies & Textile Industries, Boiler feed hot water, Project for solar steam generators
Flat Plate Collector Specification :
Brand

Euro Premium solar

Overall size**

2030 mm x 1090 mm x 95 mm

No. of fins per collector

9

Absorber area

2.06 sq. M

Absorber coating

Euro Solar selective coating on copper (black chrome on copper with or without nickel undercoat)

Absorptivity

0.92 – 0.96

Emissivity

0.10 - 0.15

Temperature tolerance of coating

More than 200 deg. C

Absorber sheet (Copper)

0.12 mm thick x 1900mm L x 115mm W

Riser (Copper tube)

O. D. 12.7mm x 0.5 mm thick x 1922mm L

Bonding between riser tube and absorber

Ultrasonic welding

Bonding between riser tube and header

Copper brazing

Riser tube protrusion inside header

Max. 3 mm

Hydraulic Test pressure

5 Kg/ sq. cm.

Rated pressure

2.5 Kg/ sq. cm.

End connections

Brass flared Flanges

Collector box

Specially Extruded Aluminum sections

Box Corner joints

G. I. screws

Box-back sheet joint

Pop riveted

Back sheet

Aluminum sheet 0.45 mm thick

Reflector

Aluminum foil 0.02/ 0.05 mm thick

Glazing

Toughened & Tempered glass 4 mm thick - free from bubbles and scratches

Transmittance

> 0. 82

Sealing

Silicone sealant

Back Insulation

Resin bonded Rockwool 50 mm thick.

R=1.67 sq. M deg. C/ W

K = 0.052W/sq. M. k

Side insulation

Resin bonded Rockwool 25 mm thick

Grommets & gaskets

EPDM rubber

Thermal performance

FRUL =< 6 W/ sq. M deg. C

FR ( T& ) >= 0.65